Send Inquiry
Pressure Feed Tanks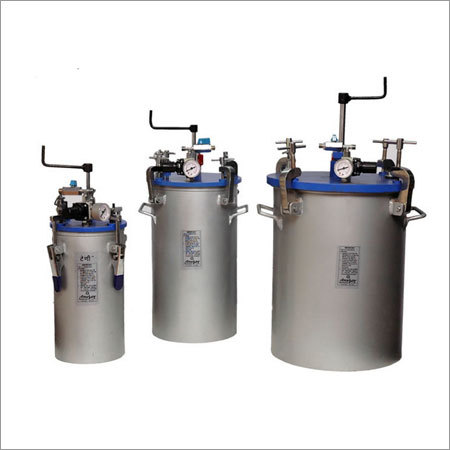 Pressure Feed Tanks
The Pressure Feed Tanks are the pressure feed containers with stirrer and gun. These tanks are perfect combination for simultaneous paint feeding & stirring. Apart from this they are made up of high grade components using modern machinery. They ensure higher performance and durability during supplying of paint to the spray gun. These feed tanks also allows continuous stirring and mixing of paint. These tanks have a blade immersed inside paint container that rotates while mixing the paints kept inside tank.

Features:

Easy to handle as it is lightweight equipment.
To maximize the use of paint we uses slopping bottom
For ease cleaning it has paint suction pipe of SS with duly polished paint
Outlet valve of SS is painted with SS paint strainer.
To give uniform clamping pressure it has easy clamping
Mixed paint is a mixture of 4.5 liters to caters.

General Features:

Due to elimination of frequent filling of paint it raises its productivity and coverage rate.
Decrease load on the painter.
Easy to operate, mainly while painting underneath areas, ceiling etc.
For the batch and facility of paint stirring manual/ auto bulk of paint is mix to reduces color variation.
For continues supply of the paint mixed together which increases the paint finish.
While paint filling it reduces paint spillage inherent
Pressure feed tank are available in standard as well as in SS material that are up to 12/22/45 liter.